Posts tagged with "Brexit"
---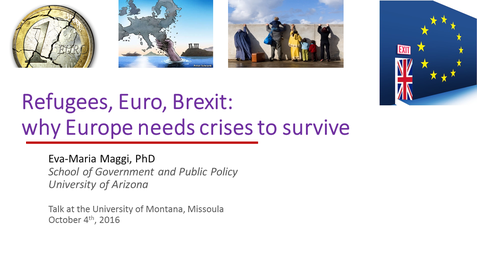 In this talk, I will challenge the notion that the European Union (EU) is disintegrating. Three times in the last year the European project has faced its greatest political and economic challenges in its 60 years of existence, but has become stronger in the process. First, the Greek debt crisis following in the wake of the global financial meltdown revealed the weaknesses of the single currency and brought the Eurozone to the brink of collapse. Next, conflict in the Middle East fueled a refugee...
Op ed for the Arizona Daily Star. For fans of direct democracy, the recent Brexit vote is good news. The majority of British people took the course of the nation into their own hands and voted against the advice of every major international institution, politician and expert. The UK is leaving the EU after 43 years, not because of some political crisis or diplomatic wrangle, but because the British people opted for this option in a national referendum. As an exercise in direct democracy, the...